"Small robots, big guns, all attitude; they remind one of one's younger self, eh?"
---
Micromasters (Part 5)
2019.10.30
Welcome to the last of the five articles covering the completed Micromaster patrols that will be available in Wave 4 on November 8th. Our previous articles were:
Let's finish by looking at the Battle Patrol.
Battle (Orange) Patrol
The Autobot Battle Patrol is built around the orange pip. In Wave 4, existing patrol members Private Flak and Private Top Shot are joined by Private Sidetrack and effective patrol leader Private Sunrunner. 
Private Sunrunner [5-star]: The effective leader of the team, he's Ranged and a Plane. In alt-mode he provides a patrol feature, any time a member of the patrol is tapped, do 1 damage to a tapped enemy.
Private Sidetrack [4-star]: Scrap an orange pip; scrap the top 4 cards of your deck and take the upgrades. 
Private Flak [5-star]: Scrap an orange pip; you may play an upgrade. Flak is the Leader of the patrol.
Private Top Shot [4-star]: Scrap an orange pip; draw 2 cards, then put a card from your hand on the top of your deck.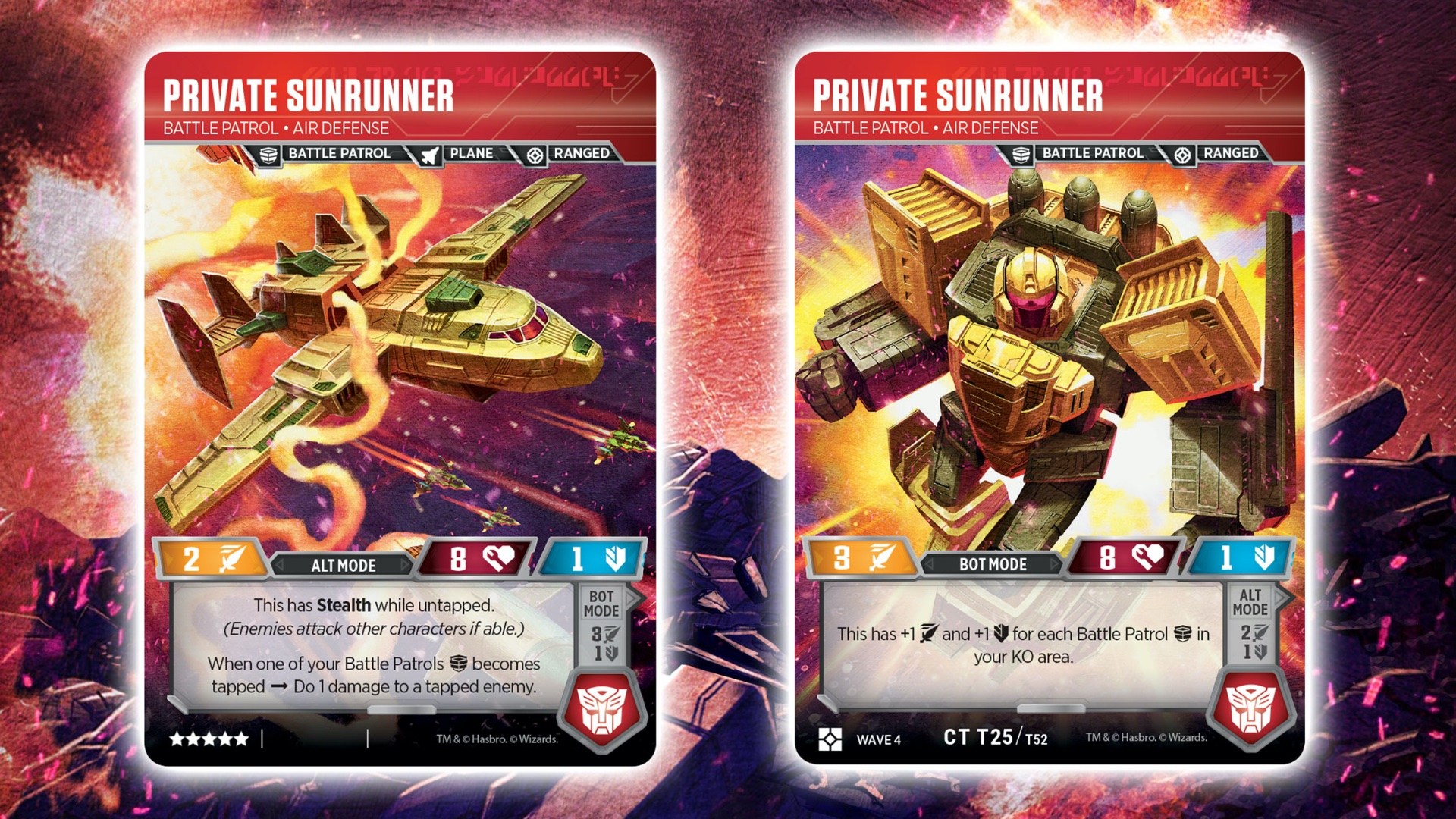 The Battle Patrol are not the biggest hitters, so it was always going to be interesting to see how their patrol feature could boost them. Being able to frequently zap a damage point over to your opponent seems like a great boost, and I love how it fits their theme as artillery pieces. It seems much more fun than, for example, giving them some Bold. 
Outside of the patrol feature Sunrunner is pretty typical for an effective patrol leader. There's the 8-health and the vengeance bot mode of +1/+1 for each K.O.'d patrol member. Being a Plane in a team of Tanks is a little odd, but it does fit nicely with the Wave 3 Two-Pronged Attack battle card.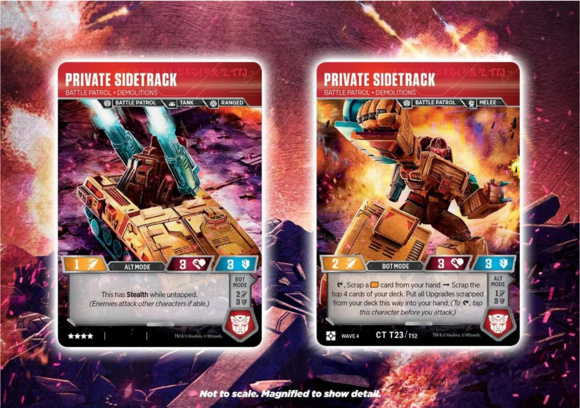 Sidetrack is the new 4-star member of the patrol (revealed in this VectorSigma article). Their tap ability is a clone of the commonly used Treasure Hunt battle card, which ties nicely to both Flak and Top Shot's abilities. Sidetrack's 3-defence is great, but their 3-health makes them susceptible to death by Bolt of Lightning (a "Do 3 damage" star card). The Battle Patrol already had one of the three Micromasters with the lowest health (5-health), so now they are comfortably the patrol with the lowest health.
5-wide Partners
Unlike some other pip colors, there are very few bots who focus on flipping orange color pip cards, and the 8-star Firecons do not make good partners for the Off-Road Patrol. Given the patrol are mostly Tanks, let's first look to the tribe of Tanks for our partners. 
The potential Wave 1 to Wave 3 options to join the full Battle Patrol are Warpath (6-star), and the Decepticons Demolisher (6-star) and Megatron Cybertronian Tyrant (7-star). Whoever joins them need to be able to take a hit, which leans things towards Demolisher who, despite his 7-health, has a 3-defence and can flip to a 4-defence.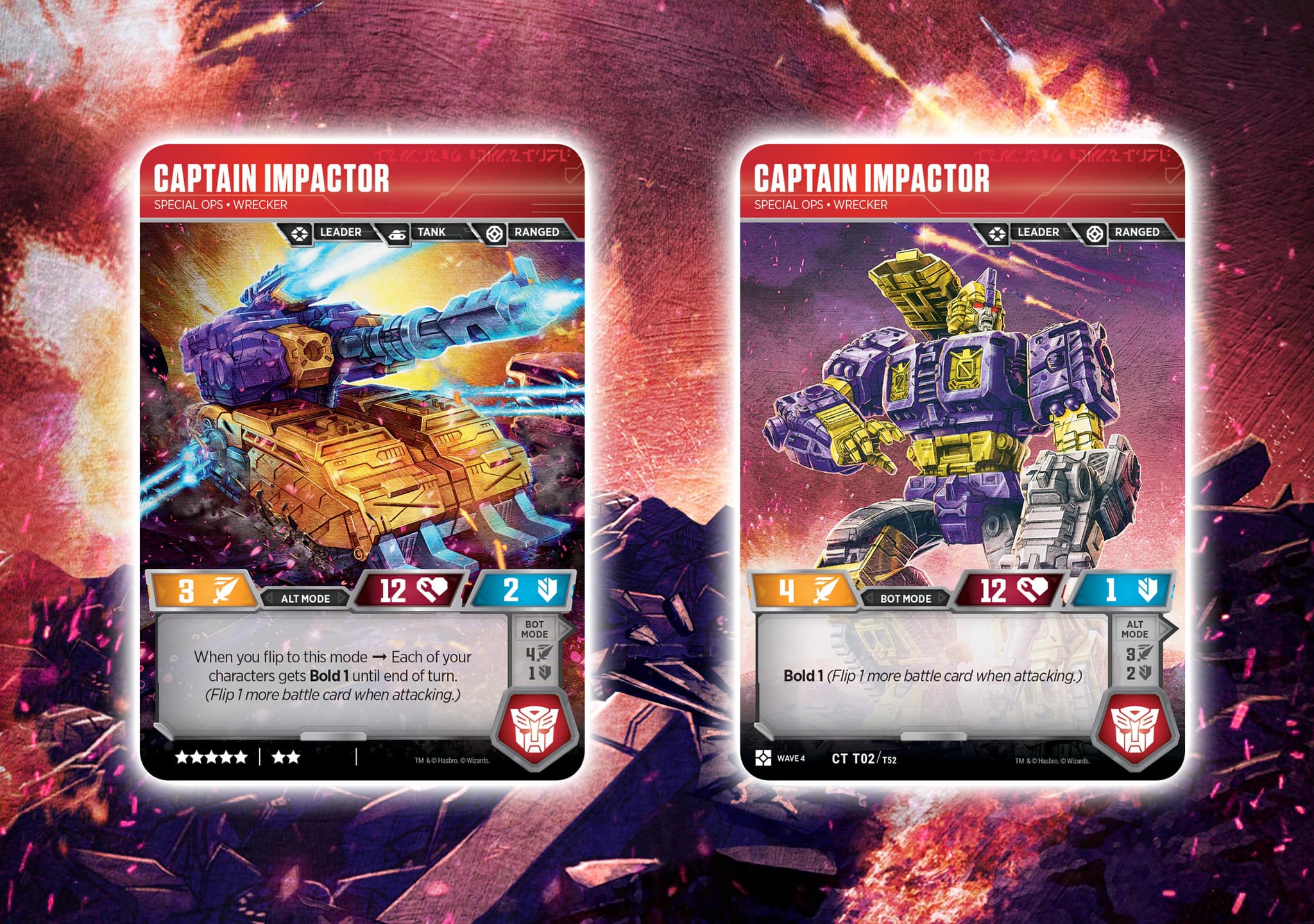 Looking to Wave 4 however, the 7-star Captain Impactor is a much better fit. Impactor has a solid 12-health, is a Ranged Autobot Tank, and flips to give Bold-1 to his team members in bot mode. He's also a Leader; having two Autobot Leaders on the team (Impactor + Flak) makes Matrix of Leadership an excellent battle card to include.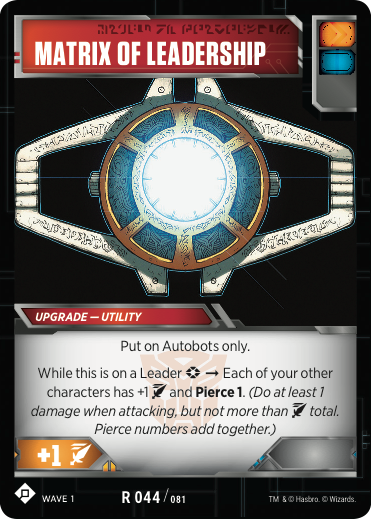 In the Battlemaster space, Vanguard will not be of much use to the Battle Patrol as two members of the patrol have too little health to be protected by Vanguard. Firedrive on the other hand seems like an excellent partner, with card drawing abilities early on and then a solid +3 and card scrapping abilities later on as a weapon. His 7-stars fit nicely, and he is even identified as a member of the Artillery in his subtitle. 
4-wide Partners
Moving to the smaller version of the patrol, the only likely Autobot Tank to look to is Wave 4's Sergeant Crosshairs. Crosshairs is a solid 10-star Tank, however his abilities are intended to support a Battlemaster partner, not a patrol.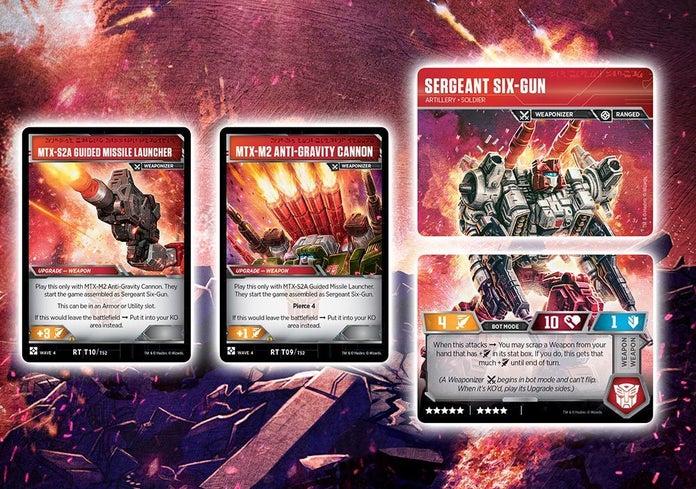 Wave 4 does provide us a better partner for the Battle Patrol in Weaponizer Sergeant Six-Gun. The 11-star Six-Gun will enjoy discarding weapons that Sidetrack picks up, and then will turn into some very nice extra artillery to boost the power of these orange Micromasters. 
Another option to consider is Blitzwing (11-stars). His Plane and Tank modes may lead to some synergies with the Patrol, and his Brave/Stealth ability will allow some control of the flow of battle. 
This leaves us with the question of who should be dropped. Does the Battle Patrol have a runt?
It's unlikely to be Flak. He's the team 5-star, and his stats show it. 7-health, able to rise to 3-attack and his tap ability is the beneficial playing of an Upgrade. Sidetrack and Top Shot, both the desired 4-stars for runt-hood, draw cards when they tap. Assuming they're partnering with Six-Gun, Sidetrack's card drawing is more beneficial and hopefully his 3-health won't stop him providing value. This makes Top Shot the patrol runt, dropped in favour of an 11-star partner.
Or how about something a bit different?
All in all, the Battle Patrol are a curious team. Their tapping damage mechanism is novel enough to lead to some interesting concepts. How about putting three EMP Waves into your deck? Tapping everyone gives you both a hefty zap on a target of your choice, as well as a disruption event. It's three star cards, which means you're now looking for an 8-star partner after dropping Top Shot. Of course you may also want to consider some Ready for Actions or I Still Functions, each of these contains a hidden 1-damage zap with the Battle Patrol. 
Who would that 8-star partner be? Well, now we're into the Firecon territory. Flamefeather's ability to treat orange pips as defence points, or Sparkstalker's card drawing ability would all be nicely received by the Battle Patrol. 
Or, perhaps the perfect partner to the Battle Patrol is Slammer. Yes, you heard that right, perhaps it's Slammer, giving space for a full Battle Patrol armed with three EMP Waves. Slammer should be an honourary member of the Battle Patrol.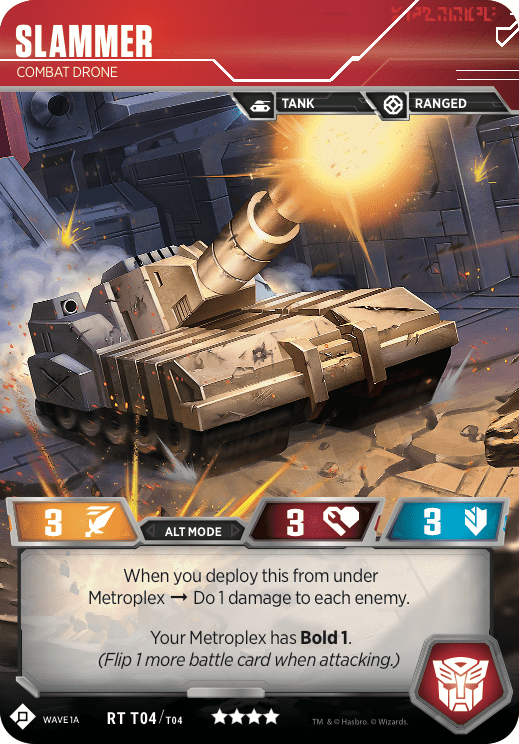 Thank you for reading
Thank you for joining me as I reviewed the Micromasters. I've enjoyed digging deeper into a group who I'd previously treated as 4-star filler. I hope you've enjoyed yourselves as well, and I'm looking forward to going to my local game store on November 8th and building some Patrol decks. I'm especially looking forward to mixing the 5-attack Air Strike Patrol with lots of Wave 4 black pip battle cards, and to the Slammer Patrol deck mentioned above; it sounds crazy but I'm thinking it's that special kind of crazy that is lots of fun.